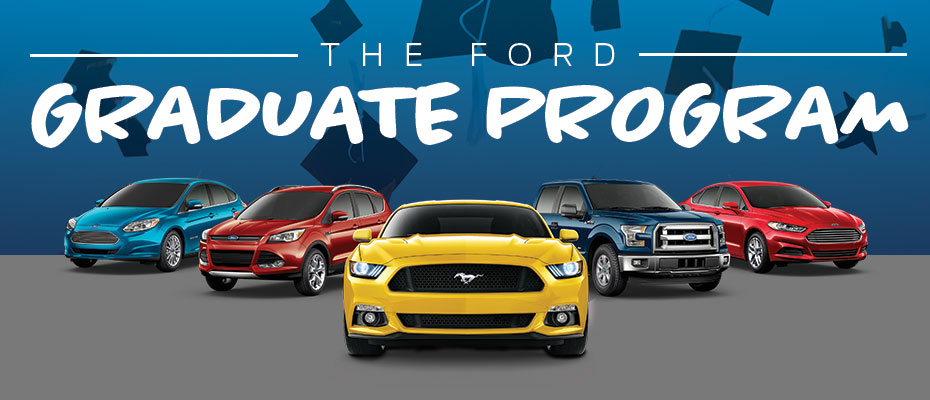 College can be unbelievably expensive, which is one of the major reasons Ford is offering a great deal to help students buy a new car. Ford is dedicated to working with students and recent graduates to help them get behind the car without spending a fortune. Ford wants you to celebrate after working toward that degree. That's why the automaker has created the Ford Drives U program, a unique way for college students and recent grads to have some exclusive purchasing plans and buying options.
Qualified students will be offered a $500 incentive to purchase or lease a new Ford vehicle-just one way the brand is giving back. Ford wants to support students who work hard to further their education, something for which they deserve to be rewarded. Simply show that you are eligible for the program and begin receiving the benefits today.
To qualify for this program, you must be either a full- or part-time student enrolled in at least two classes (or a total of six credit hours), and you must be in "good" academic standing. Your school must be an accredited four-year university or college, a junior college, community college, or trade school. You may also have a graduation date between May 1, 2014 and January 2, 2018 to qualify. Graduate school programs count toward the program as well, as long as they meet the other criteria. This program is only for 2016 and 2017 Ford vehicles.
How can you show that you qualify? That's easy. Simply provide one of the following as proof of your studies:
Copy of diploma
Copy of final transcript
Letter of intent
Current class schedule
Dated report card
Dated letter from school confirming enrollment
Think you might qualify for the Ford Drives U program? Check out the official website for more details. This is just one more way Ford is giving back, demonstrating its support of post-secondary education in the US. You can also contact the team at Hilbish Ford for more information, or to take a brand new Ford car like a Fusion, Focus or F-150! We proudly serve the greater Kannapolis, NC area.