Ford Dealer in Mooresville, NC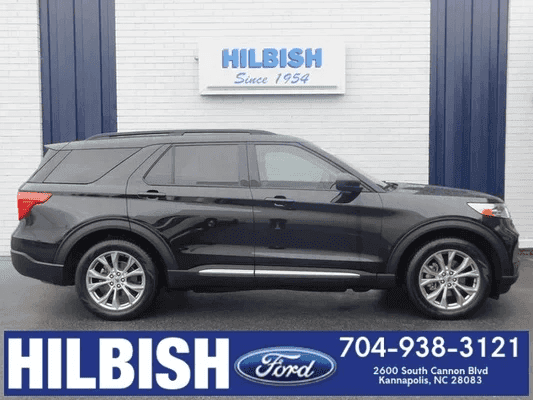 Welcome to our Ford dealership in Mooresville, NC! We proudly serve the Mooresville community and surrounding areas as a premier destination for all your Ford vehicle's needs. Whether you're in the market for a new ride, seek a reliable pre-owned option, or require superior maintenance and repair services, we are here to exceed your expectations. Our dealership is committed to providing outstanding customer service and ensuring your satisfaction throughout your Ford ownership journey.
Discover Ford Vehicles for Sale in Mooresville, NC
At our dealership, you'll find an extensive selection of the latest Ford vehicles for sale in Mooresville, NC. From versatile SUVs like the Ford Escape and Explorer to rugged trucks like the Ford F-150 and Super Duty, we have many options to suit your needs and preferences. Our knowledgeable sales team is dedicated to helping you find the perfect Ford vehicle that matches your lifestyle and budget.
Extensive Ford Inventory to Suit Your Lifestyle
We take pride in offering a variety of Ford vehicles to cater to diverse lifestyles and preferences. Whether you need a fuel-efficient sedan for your daily commute, a spacious SUV for your growing family, or a powerful truck for your adventurous endeavors, we have a suitable model for everyone. Our stock includes popular models such as the Ford Mustang, Ford Edge, Ford Ranger, and many more. Explore our showroom or browse our online inventory to find the ideal Ford vehicle that fits your needs.
Knowledgeable and Committed Staff
Our dealership boasts a team of knowledgeable and committed staff members who are passionate about Ford vehicles and dedicated to providing exceptional customer service. From our sales associates who will assist you in finding the right car to our certified technicians who ensure your vehicle stays in optimal condition, every team member is here to help you at every step. We prioritize your satisfaction and strive to create a positive, stress-free car-buying experience.
Competitive Financing and Leasing Options
We understand that purchasing a vehicle is a significant investment, and we are here to help make it more accessible and affordable for you. Our dealership offers competitive financing and leasing options to suit your budget and financial needs. Our finance specialists work with a wide network of lenders to secure favorable rates and terms, ensuring you get the best possible financing solution. We will guide you through the process and help you make informed decisions so you can confidently drive home in your dream Ford vehicle.
Mooresville's Top-Rated Car Dealerships
As one of the top-rated car dealerships in Mooresville, we take pride in our reputation for excellence. We have earned the trust of our customers through our commitment to providing exceptional vehicles, reliable service, and a personalized car-buying experience. Our dedication to customer satisfaction has resulted in numerous positive reviews and referrals. We invite you to visit our dealership and experience the outstanding service that has made us one of the most trusted Ford dealerships in Mooresville, NC.
Take Home a Ford Today
Are you ready to take home a Ford vehicle that will elevate your driving experience? Visit our dealership in Mooresville, NC, and let us assist you in finding the perfect Ford model for your needs. Our friendly and knowledgeable staff will guide you through the entire process, from vehicle selection to financing, ensuring a seamless and enjoyable experience. We are committed to exceeding your expectations and helping you drive home in the Ford of your dreams.
Explore New and Pre-Owned Ford Vehicles in Mooresville
In addition to our new Ford inventory, we offer a wide selection of pre-owned Ford vehicles in Mooresville. Buying a pre-owned Ford is a fantastic option for those looking to save money while still enjoying the quality and reliability that Ford vehicles are known for. Our pre-owned inventory undergoes rigorous inspections to ensure that each vehicle meets our high quality and performance standards. From certified pre-owned Ford models to vehicles from other reputable manufacturers, you can browse through our diverse pre-owned inventory to find the perfect vehicle that suits your needs and budget.
Our knowledgeable sales team is available to assist you in exploring your options and finding the right pre-owned Ford vehicle that meets your specific requirements. We understand that buying a pre-owned vehicle can sometimes be overwhelming, but we are here to provide all the information and support you need to make an informed decision. We aim to ensure that you drive away with a pre-owned Ford that meets and exceeds your expectations.
At our dealership, we believe in transparency and providing our customers with all the necessary information about each pre-owned vehicle in our inventory. We provide detailed vehicle histories and Carfax reports, so you can have peace of mind knowing the background and condition of the vehicle. Our team will also happily arrange a test drive, allowing you to experience the performance and features firsthand before deciding.
Once you've found the perfect pre-owned Ford, our finance specialists are here to assist you in securing the best financing options available. We work with various lenders to offer competitive rates and flexible terms, regardless of your credit situation. We aim to make the financing process as smooth and hassle-free as possible so you can drive home in your chosen pre-owned Ford vehicle without any financial stress.
In addition to our sales team, we have a state-of-the-art service center staffed by highly trained and certified technicians. Our service center is equipped with the latest diagnostic tools and equipment to handle your Ford vehicle's maintenance or repair needs. From routine oil changes and tire rotations to major engine repairs, our experienced technicians are dedicated to keeping your Ford running smoothly and efficiently.
When you choose our dealership for your pre-owned Ford vehicle, you can confidently trust our commitment to customer satisfaction. We take pride in building long-lasting relationships with our customers and providing ongoing support throughout your ownership journey. Whether you need routine maintenance, genuine Ford parts and accessories, or expert advice, our team is always here to assist you.
Visit our Ford dealership in Mooresville, NC, and discover the range of new and pre-owned Ford vehicles available. Experience the exceptional customer service, extensive inventory, and competitive financing options that have made us one of the top-rated car dealerships in Mooresville. Let us help you find the Ford vehicle that perfectly suits your lifestyle and exceeds your expectations. Drive home in a Ford today and enjoy the reliability, performance, and innovation that Ford vehicles are renowned for.