Hilbish Ford Collision Repair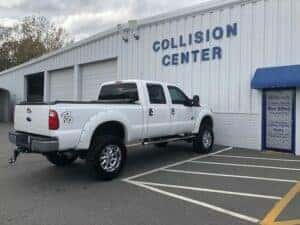 When it comes to entrusting your vehicle's repair and restoration to a collision center, there is no better choice than Hilbish Ford Collision Center located in Kannapolis, NC. With an impeccable reputation for quality craftsmanship, exceptional customer service, and a deep-rooted commitment to excellence, Hilbish Ford has consistently proven itself as a reliable and trustworthy destination for all your collision repair needs.
Backed by a team of highly skilled technicians, state-of-the-art equipment, and a dedication to utilizing genuine Ford parts, they go above and beyond to ensure that your vehicle is restored to its pre-accident condition, giving you peace of mind and restoring your trust in their expertise. Whether you require minor dent repairs or major collision restoration, Hilbish Ford Certified Collision Center is the name you can rely on to deliver top-notch service, making them the clear choice for all your automotive repair needs.
Aesthetic Damage or Severe Damage? Hilbish Ford Can Help!
No matter the extent of the damage your vehicle has suffered, whether it's a minor aesthetic issue or a severe collision, Hilbish Ford is your go-to solution. With our unparalleled expertise and years of experience with Ford collision repair procedures, Hilbish Ford specializes in addressing both aesthetic and severe damages with precision and care. From minor scratches, dents, and paint touch-ups to extensive body repairs and frame straightening, our skilled technicians are well-equipped to handle any challenge.
By employing the latest techniques and utilizing genuine Ford parts, Hilbish Ford ensures that every repair is performed to the highest industry standards, restoring your vehicle's appearance and structural integrity. When it comes to restoring your vehicle, regardless of the extent of the damage, you can trust Hilbish Ford to deliver exceptional results that exceed your expectations.
Gold Class Collision Repair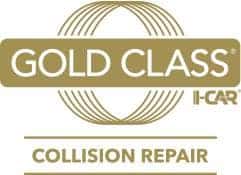 Hilbish Ford is proud to be a part of the I-Car Gold Class repair facility. The Gold Class is recognized as the highest relevant training achievement that is recognized by the collision repair industry. Only around 10% of repair shops currently meet the Gold Class standard, so Hilbish Ford is proud to be in such a competitive environment to serve individuals around the Charlotte area. Our expert technicians maintain up-to-date knowledge and skills that help with any repairs needed to your Ford car, truck, or SUV.
Looking for a Ford Collision Center Near Me?
Hilbish Ford offers collision repair for the following areas:
Charlotte, NC
Concord, NC
Kannapolis, NC
Mooresville, NC